Posted by: thepinetree on 09/22/2022 01:47 PM Updated by: thepinetree on 09/22/2022 01:49 PM
Expires: 09/22/2032 12:00 AM


Caltrans To Begin Culvert Project on State Route 49 Near Angels Camp

Angels Camp, CA...The California Department of Transportation (Caltrans) will install drainage pipe systems (culverts) on State Route 49 from approximately a half-mile south of Red Hill Road to Gun Club Road near Angels Camp in Calaveras County. Culverts drain water to help prevent erosion and maintain the structural integrity of roadways. Construction is scheduled to begin on Monday, October 3 and continue until November 2022. One-way traffic control with flaggers will be employed from 6:00 a.m. to 6:00 p.m. Monday through Thursday, and from 6:00 a.m. to 3:00 p.m. on Friday.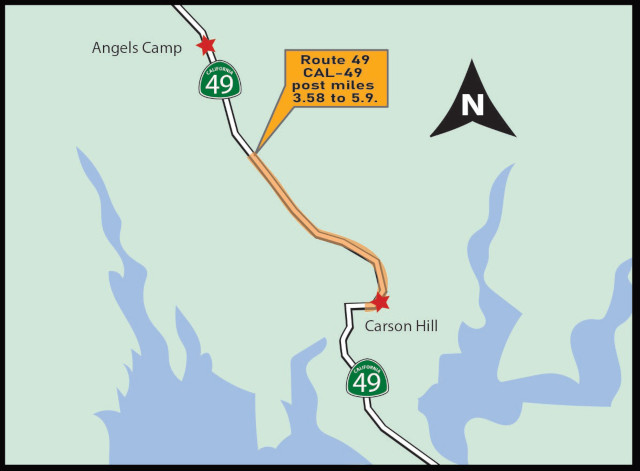 Motorists should expect 5- to 10-minute delays and are advised to use alternate routes, whenever possible.
Culverts will be installed at two locations south of Red Hill Road, one location north of Whittle Ranch Road, and one location south of Gun Club Road.

The estimated $275,00 project will be performed by Quimu Contracting Inc. of Dixon, CA.

This work is scheduled to begin as listed, but is subject to change due to traffic incidents, weather, availability of equipment, and/or materials and construction related issues.

For the safety of workers and other motorists, please Be Work Zone Alert.

For the latest road conditions, visit quickmap.dot.ca.gov.

###


This event repeats weekly every Monday Tuesday Wednesday Thursday Friday until 11/01/2022



Comments - Make a comment
The comments are owned by the poster. We are not responsible for its content. We value free speech but remember this is a public forum and we hope that people would use common sense and decency. If you see an offensive comment please email us at news@thepinetree.net
What's Related
These might interest you as well
Calendar
Photo Albums
Local News
phpws Business Directory
Web Pages