Murphys, CA...Get ready for a day of live music, craft vendor booths, food, wine and beer, bounce houses and kids activities, a rock climbing wall and, of course, the BEST firework display for miles around.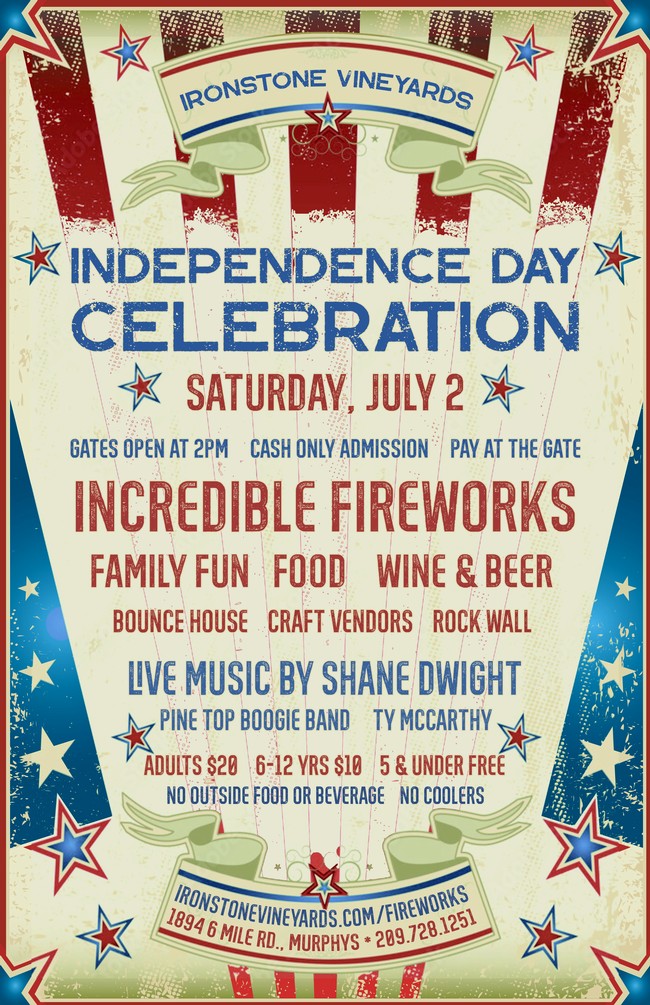 As many of you know, California's on-going drought conditions and thereby imminent fire danger is a subject that is not to be taken lightly. While, of course, the enjoyment of our guests remains paramount, it is only surpassed, in terms of importance, by the responsibility of providing a safe atmosphere for our patrons and surrounding community. The combination of the inherent fire danger that hosting a firework show carries and the aforementioned conditions makes navigating such an event very tricky. So tricky that, as many may have noticed, the majority, if not all, of our beloved neighboring shows have been forced to cancel.

We are thankful that, because of our unique venue layout, seasoned professional firework show planners and technicians, support and input from our local and state fire department, and an overall on-going dedication to maintaining the most safe possible experience, we are in a position to carry on with the firework show and provide guests with what we believe is the most fantastic firework show for miles around. However, in the name of safety, there will be some extra precautions taken this year. Primarily in terms of the height of the fireworks that we use for the show.

While in years past our highest-flying fireworks shot up between 500 and 600 ft., this year we will keep our fireworks to around (or under) 200 ft. It should be noted that, the number of fireworks we will use will not change and the overall brilliance of the fireworks will not be sacrificed. We simply need to keep the show a bit lower in the name of safety.

Also, because of the heightened awareness and attention to fire safety this year, CHP will be especially sensitive to those who try to park on 6 Mile Rd. outside and around our venue. Those who try to do so, can almost guarantee to be ticketed and/or towed.

Of course, should we experience a further decrease in the air humidity, higher temperatures, or increased windspeeds, this is subject to change. We will be sure to notify the public every step of the way. Again, we are so thankful for the opportunity to be able to host such an incredible event that we, as well as our
community, have all been looking forward to so very much.

See you all on July 2nd!
---
07/02/2022
All Day Event