Coming Soon...
Wednesday, Aug 17
All Day
One-way Traffic Control on State Routes 88 and 89
All Day
Sierra Repertory Theatre: Sh-Boom! Life Could Be A Dream
06:30 PM
Summer Starts with the Calaveras Arts Council's Music in the Parks
Thursday, Aug 18
All Day
One-way Traffic Control on State Routes 88 and 89
All Day
Sierra Repertory Theatre: Sh-Boom! Life Could Be A Dream
05:30 PM
Angels Camp After Hours in Historic Downtown Angels Camp
07:00 PM
Brad Paisley Plays Ironstone Amphitheatre August 18! Don't Miss It!!
07:00 PM
Shakespeare on the Vine at Brice Station Vineyards Through August 20th
Friday, Aug 19
All Day
One-way Traffic Control on State Routes 88 and 89
All Day
Sierra Repertory Theatre: Sh-Boom! Life Could Be A Dream
05:00 PM
The Angels Camp Farmers Market is Every Friday Through September!
07:00 PM
Shakespeare on the Vine at Brice Station Vineyards Through August 20th
07:50 PM
Grease Movie Night at Feeney Park on August 19th! Pay Tribute to Olivia Newton-John
Saturday, Aug 20
All Day
One-way Traffic Control on State Routes 88 and 89
All Day
Sierra Repertory Theatre: Sh-Boom! Life Could Be A Dream
09:00 AM
Savory Jam, Jelly & Beyond class
09:00 AM
Chutney & More on Tap for UCCE Master Food Preservers Class
03:00 PM
Live Music at Jazz Cellars all Summer Long
04:00 PM
The 2022 Angels-Murphys Rotary Shrimp Feed!!
07:00 PM
Shakespeare on the Vine at Brice Station Vineyards Through August 20th
Sunday, Aug 21
All Day
One-way Traffic Control on State Routes 88 and 89
All Day
Sierra Repertory Theatre: Sh-Boom! Life Could Be A Dream
All Day
Our Sunday Edition with Local Features, Local Specials & More Every Sunday All Day Long!
05:30 PM
Farms of Tuolumne County Annual Dinner
Monday, Aug 22
All Day
One-way Traffic Control on State Routes 88 and 89
All Day
Sierra Repertory Theatre: Sh-Boom! Life Could Be A Dream
Tuesday, Aug 23
All Day
One-way Traffic Control on State Routes 88 and 89
All Day
Sierra Repertory Theatre: Sh-Boom! Life Could Be A Dream
Wednesday, Aug 24
All Day
One-way Traffic Control on State Routes 88 and 89
All Day
Sierra Repertory Theatre: Sh-Boom! Life Could Be A Dream
Thursday, Aug 25
All Day
One-way Traffic Control on State Routes 88 and 89
All Day
Sierra Repertory Theatre: Sh-Boom! Life Could Be A Dream
Friday, Aug 26
All Day
One-way Traffic Control on State Routes 88 and 89
All Day
Sierra Repertory Theatre: Sh-Boom! Life Could Be A Dream
05:00 PM
The Angels Camp Farmers Market is Every Friday Through September!
Saturday, Aug 27
All Day
One-way Traffic Control on State Routes 88 and 89
All Day
Sierra Repertory Theatre: Sh-Boom! Life Could Be A Dream
03:00 PM
Live Music at Jazz Cellars all Summer Long
Sunday, Aug 28
All Day
One-way Traffic Control on State Routes 88 and 89
All Day
Our Sunday Edition with Local Features, Local Specials & More Every Sunday All Day Long!
Monday, Aug 29
All Day
One-way Traffic Control on State Routes 88 and 89
Tuesday, Aug 30
All Day
One-way Traffic Control on State Routes 88 and 89
Calendar
The Firecracker Mile Returns Better Than Ever After Covid Slumber! Register Today!
Arnold, CA...Six Days from race day (July 2, 2022)! We're putting everything in order and we hope you will join us in this fun race to celebrate Independence Day! Register at https://ultrasignup.com/register.aspx?did=94836 Once an Arnold Independence Day Parade tradition, the Firecracker Mile is a mile race that kicks off the Independence Day parade, beginning at the Arnold Byway and ending at Cedar Center. It's a great way to participate in the parade if you're not already on a float, and we hope you'll join us as we promote fitness and raise money for Hazel Fischer Elementary Parents Club.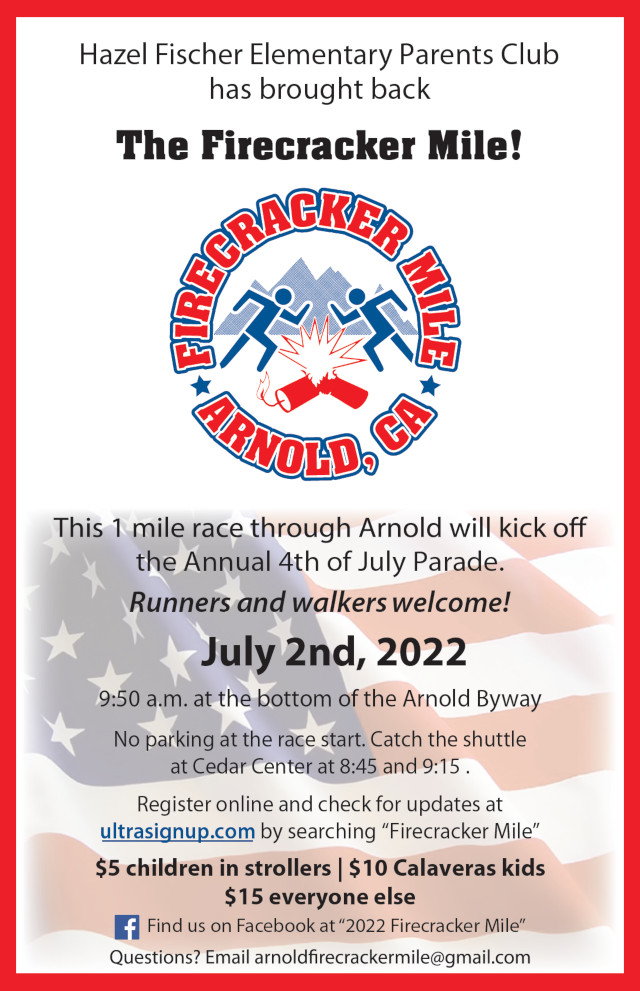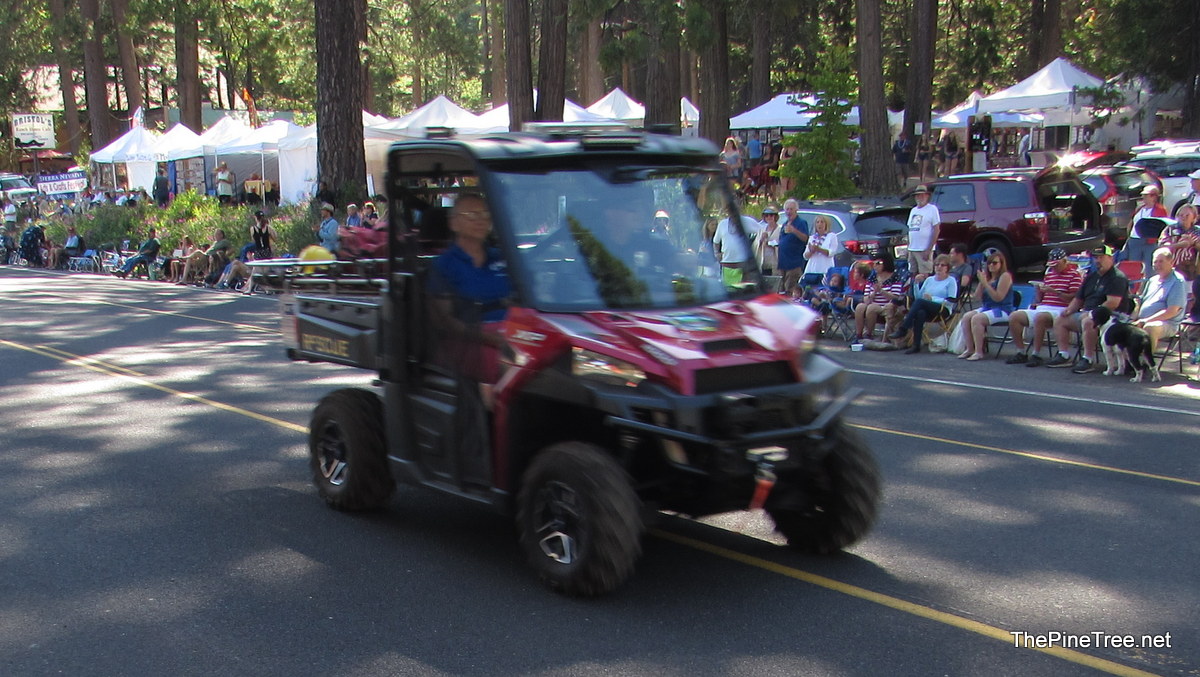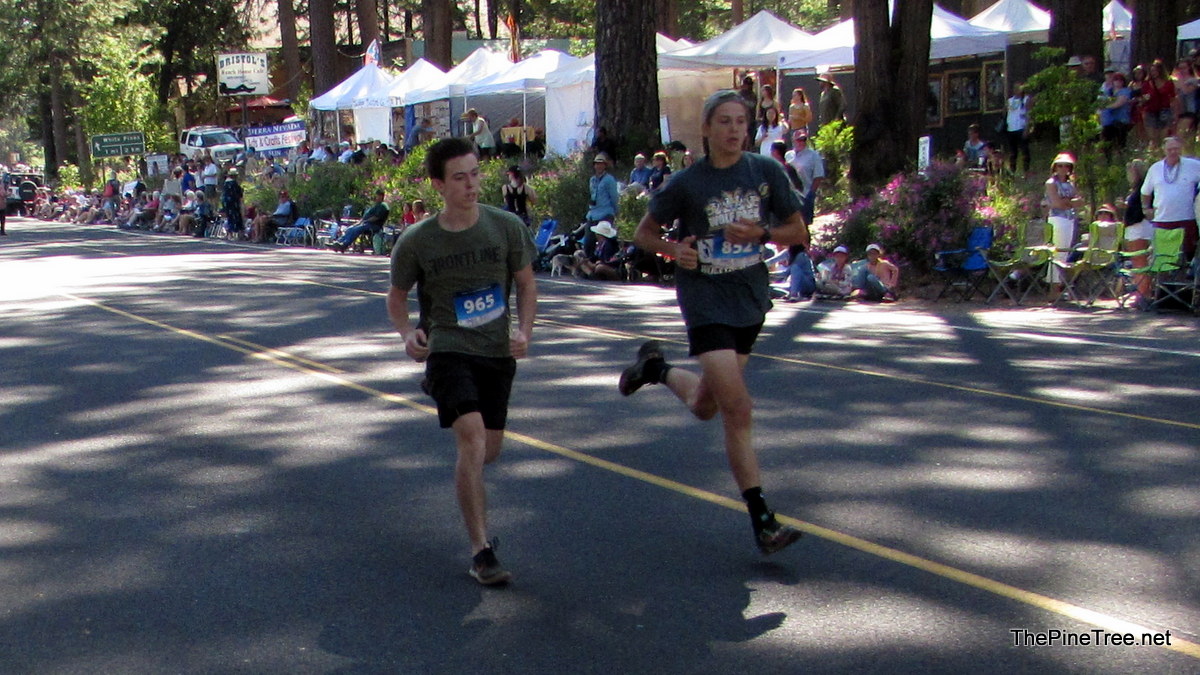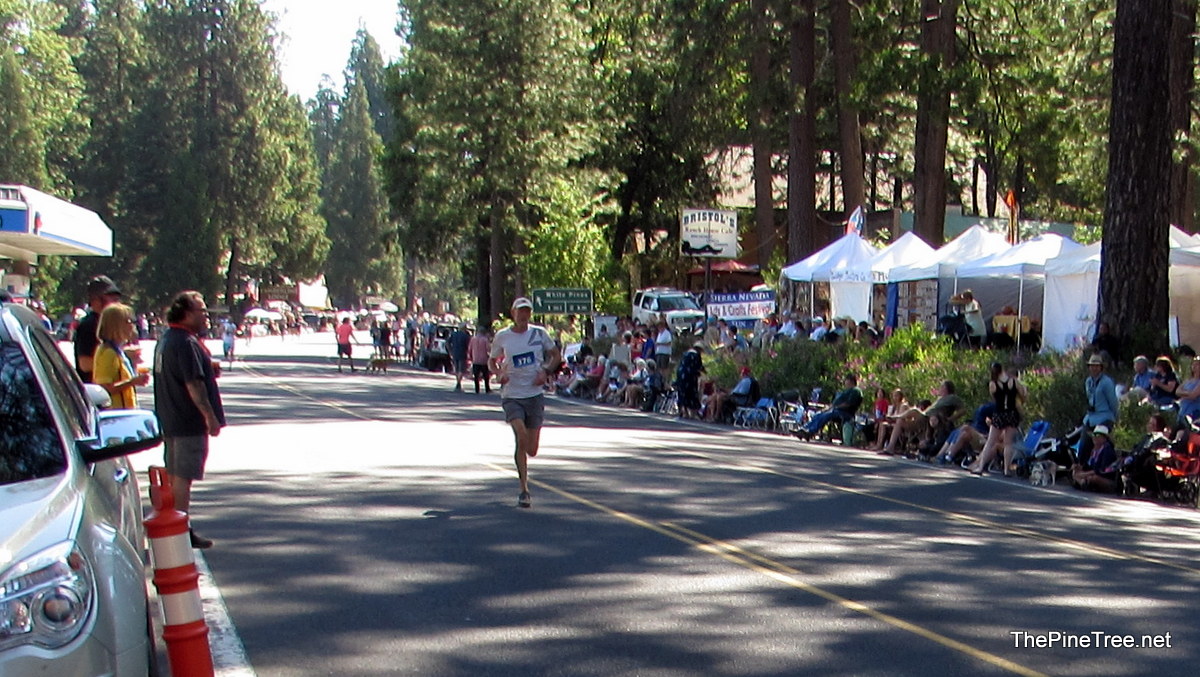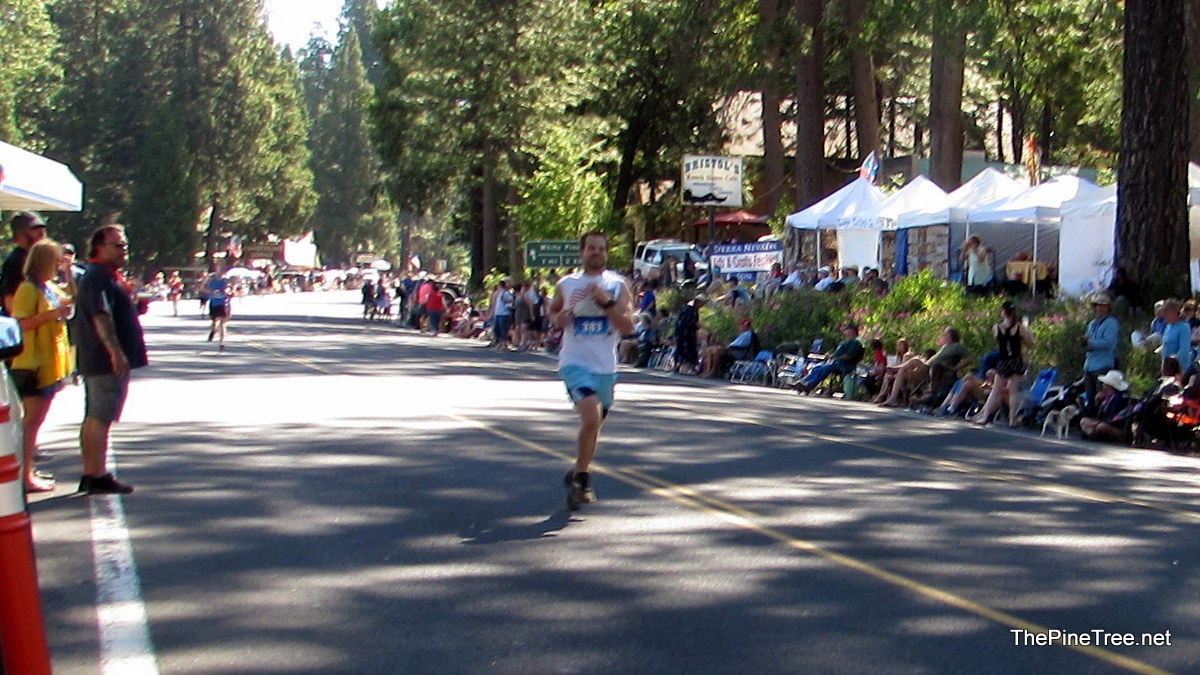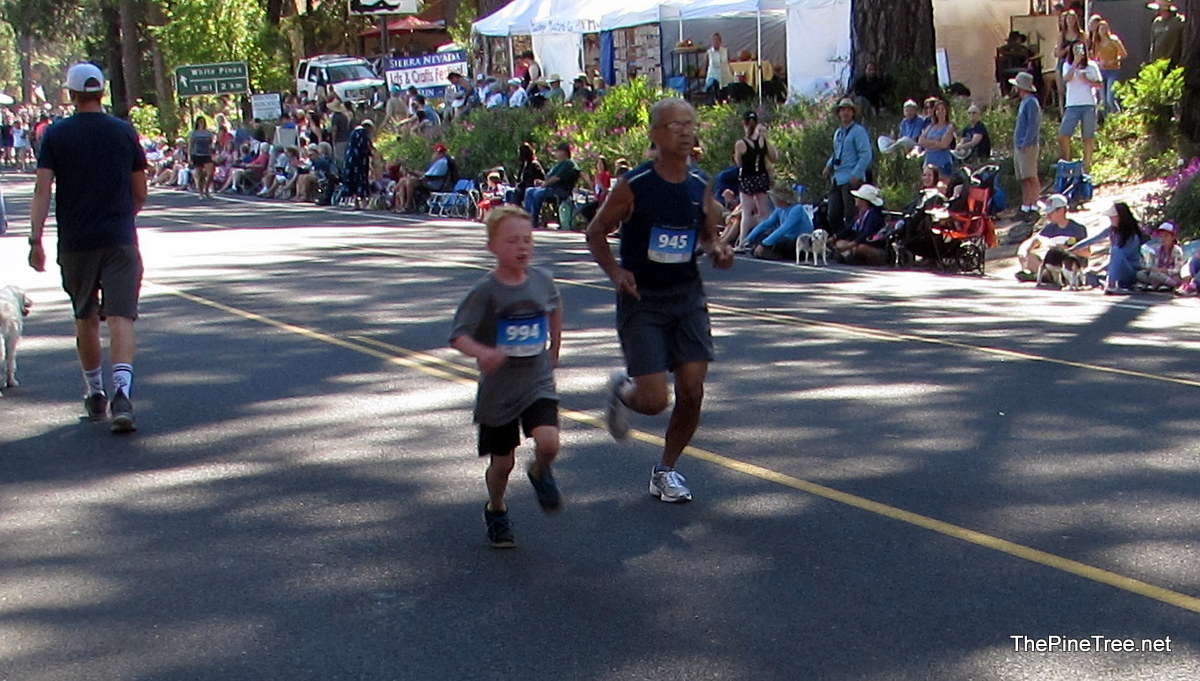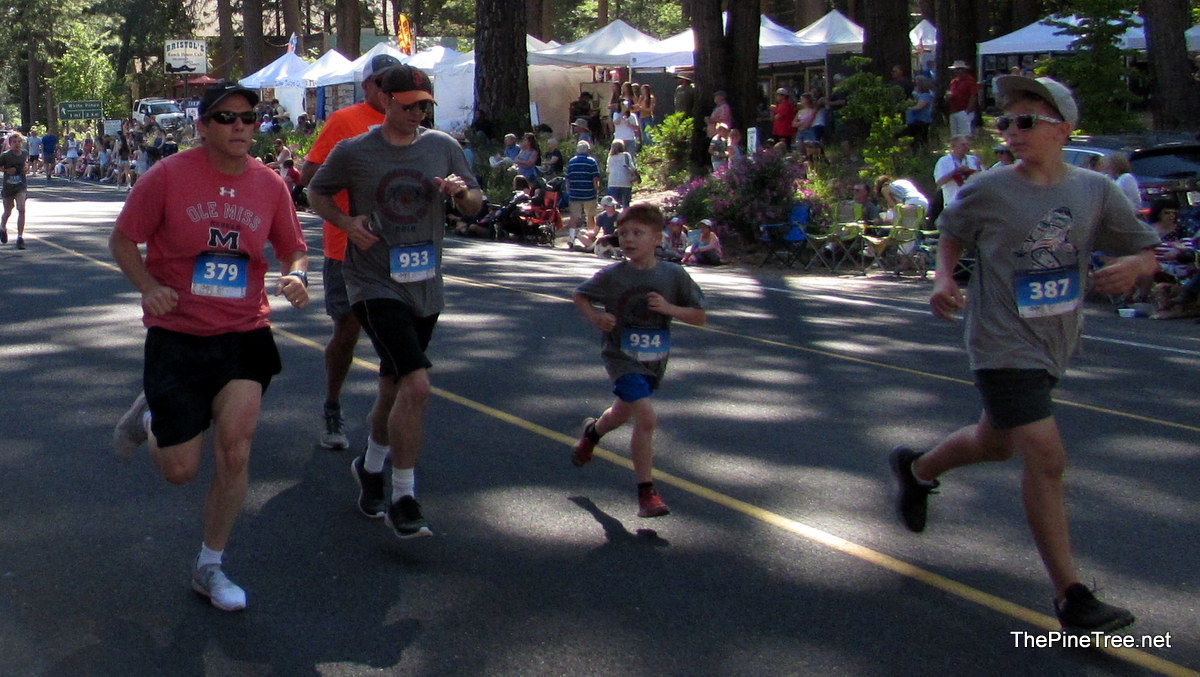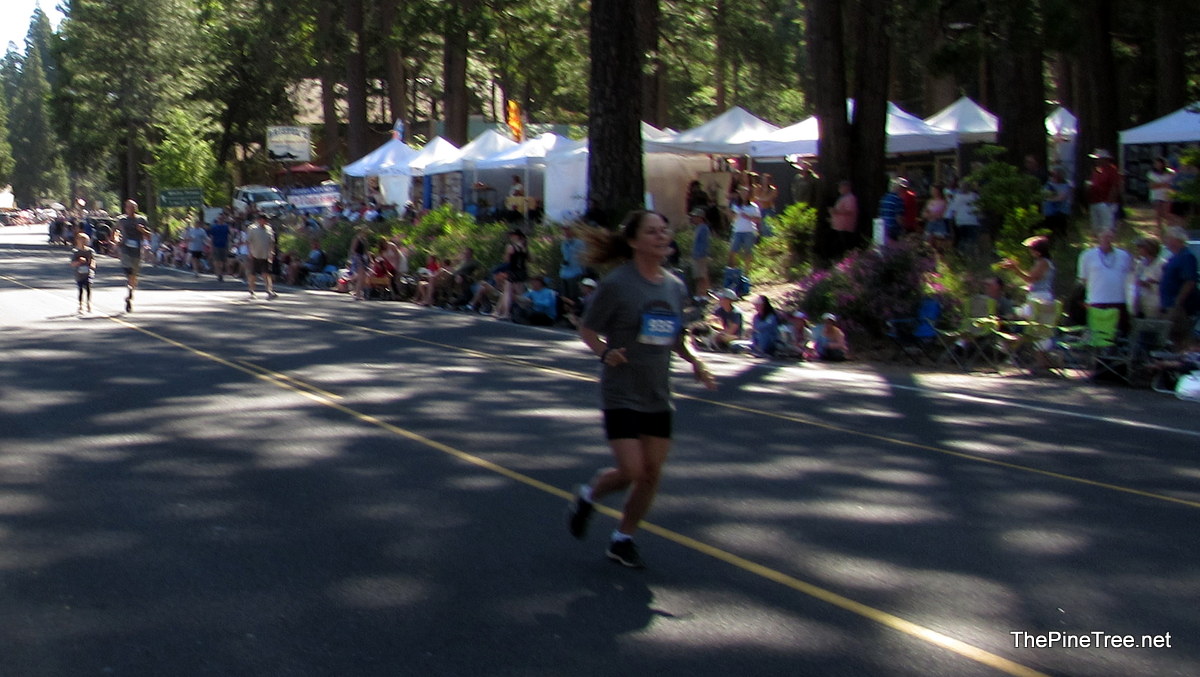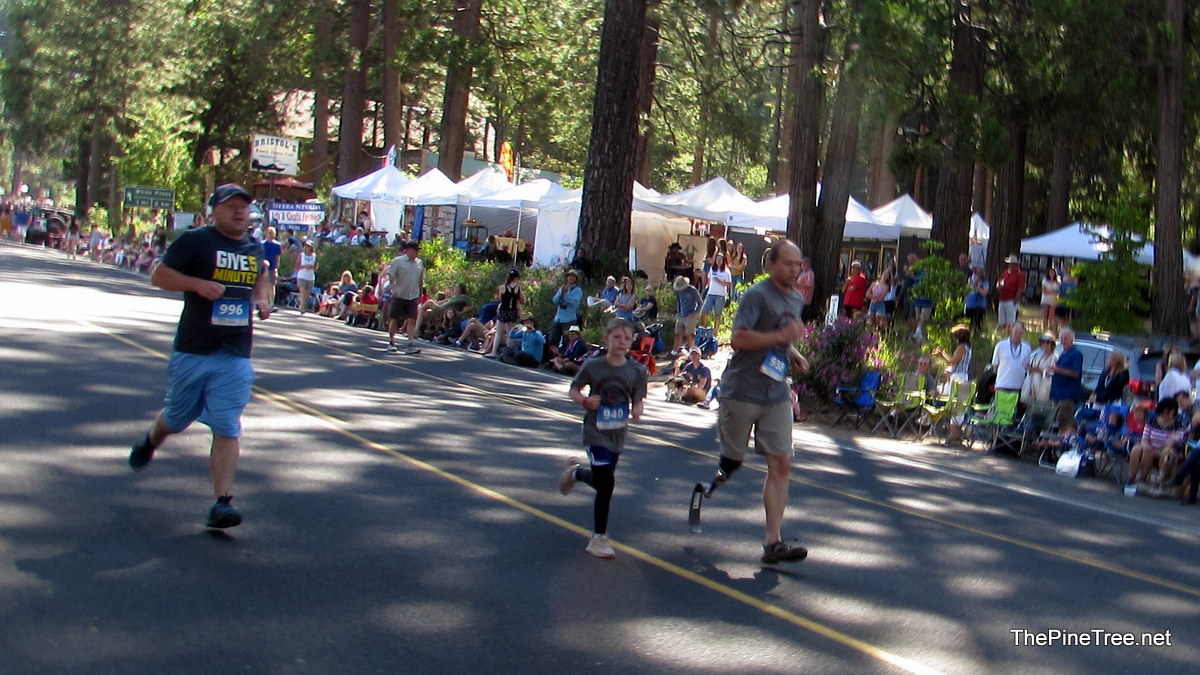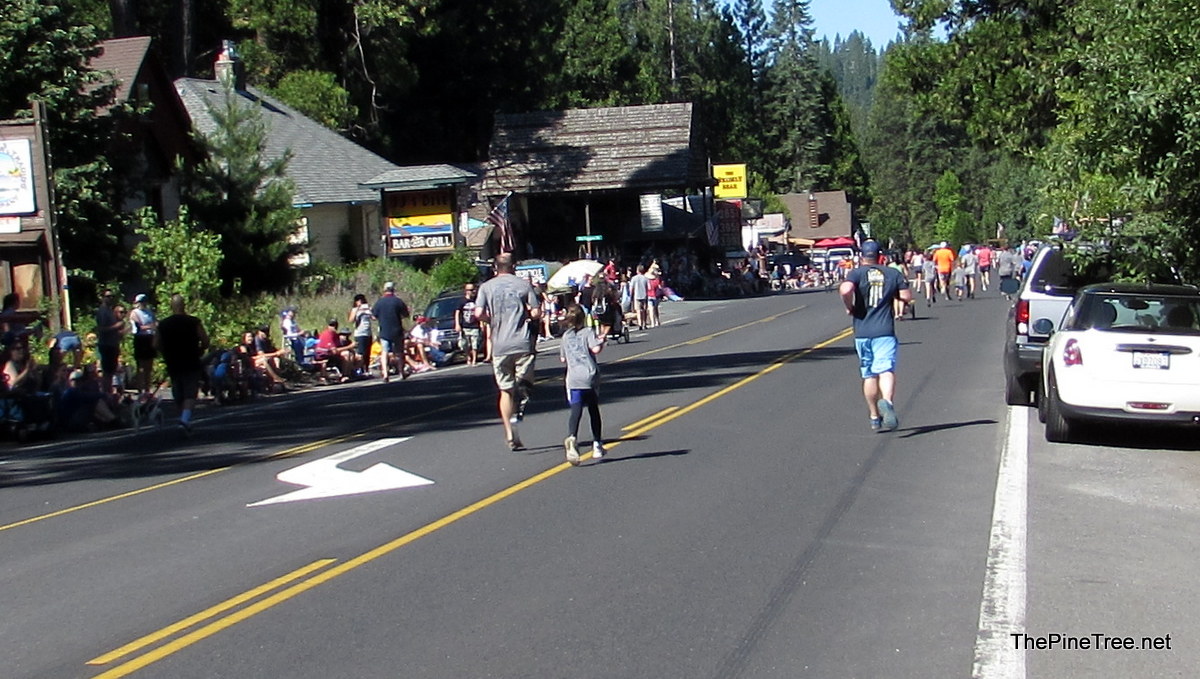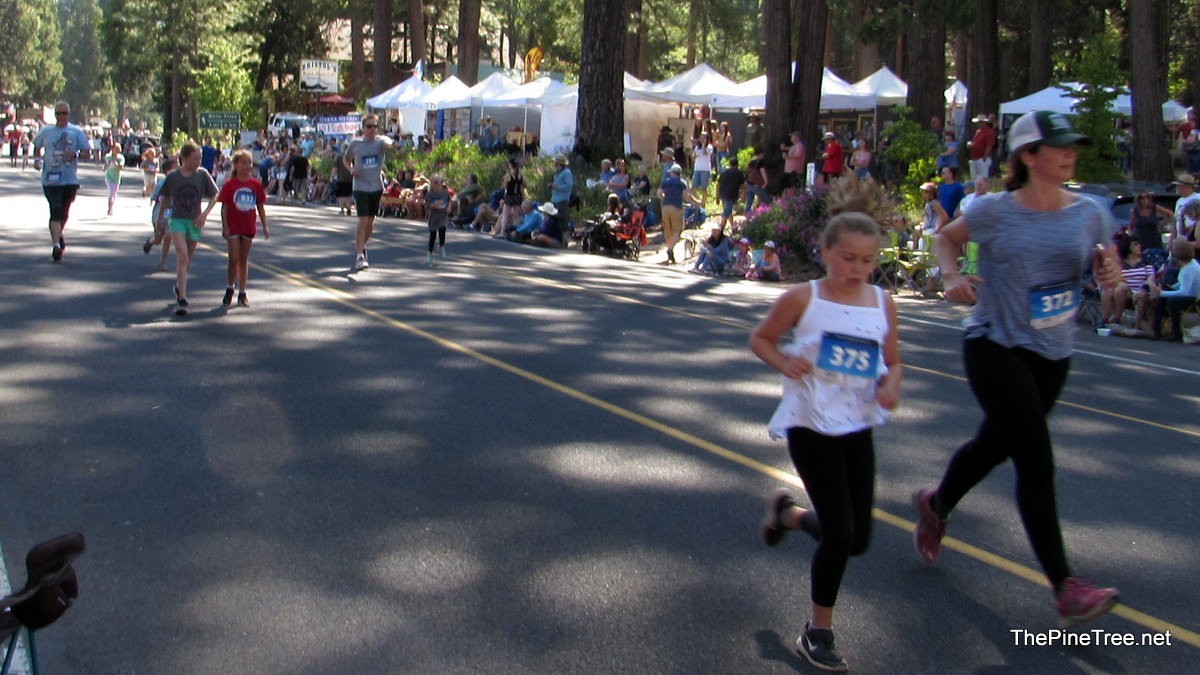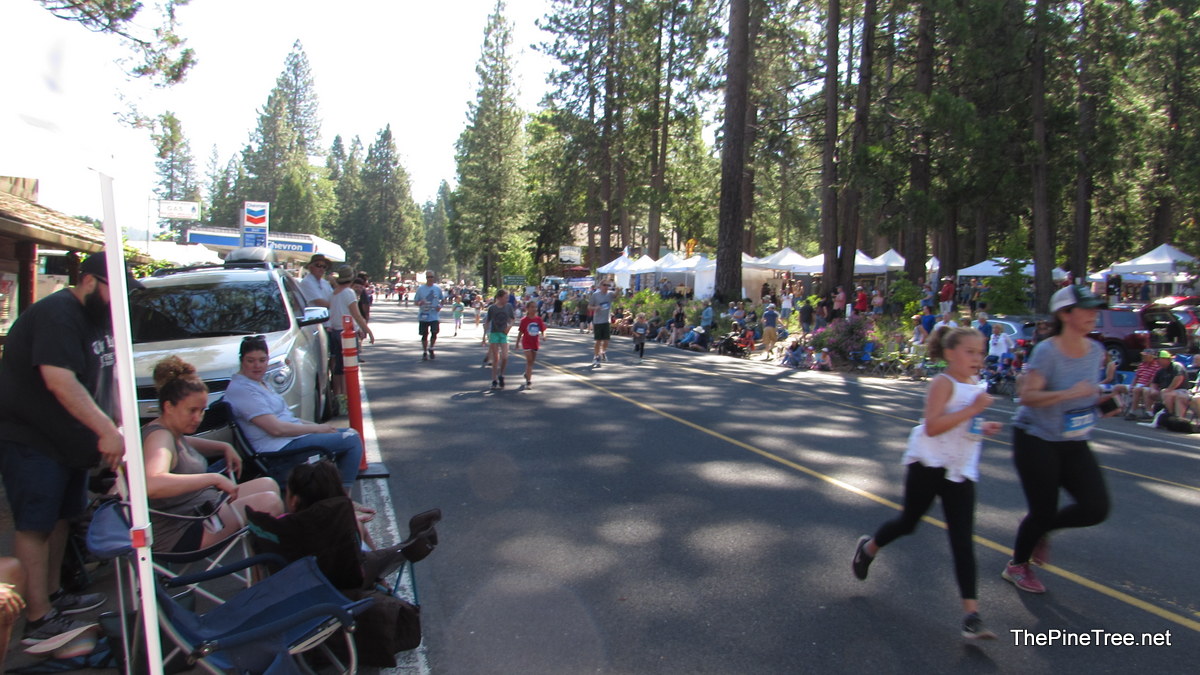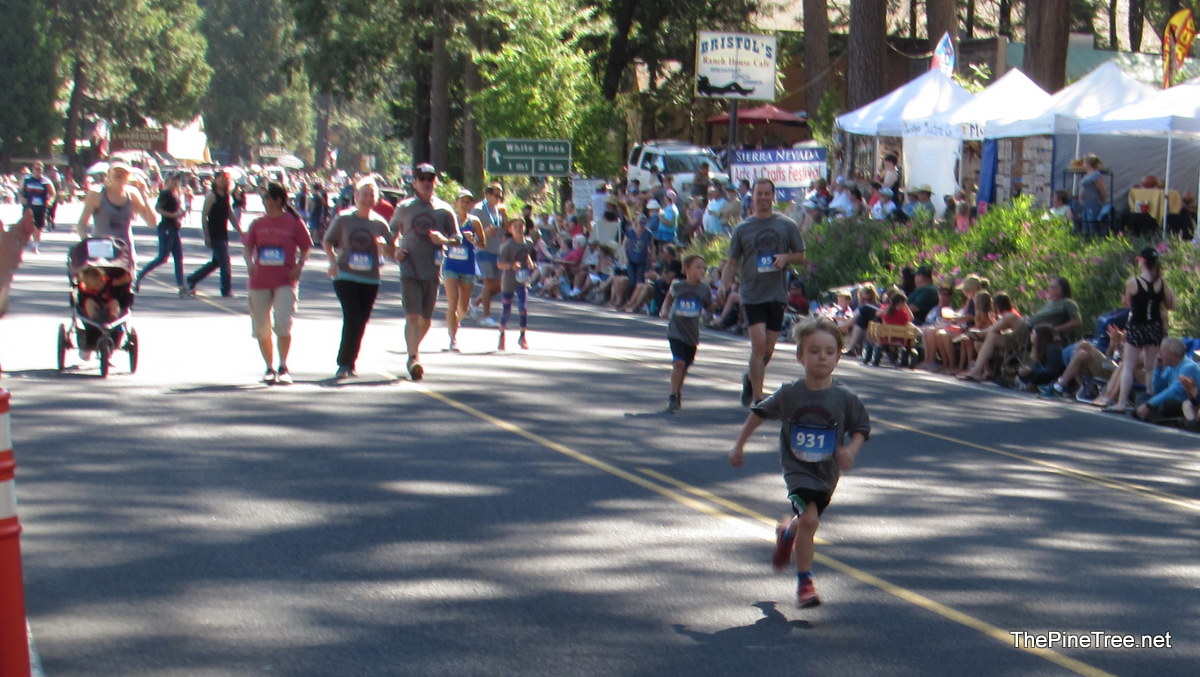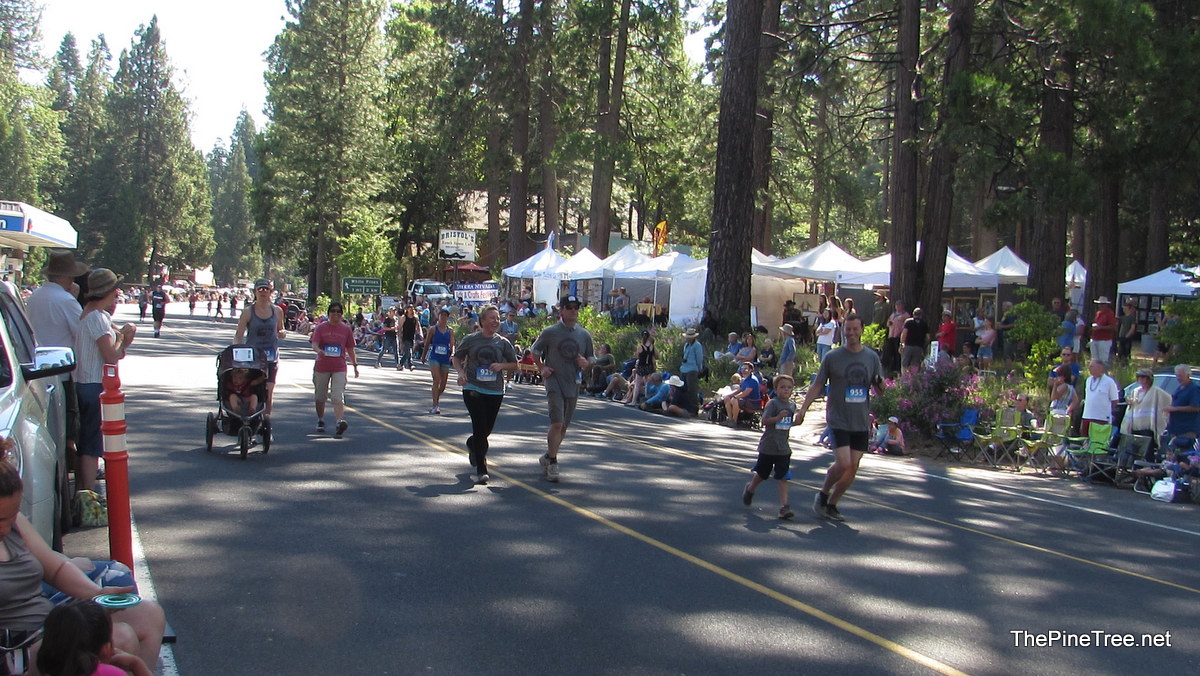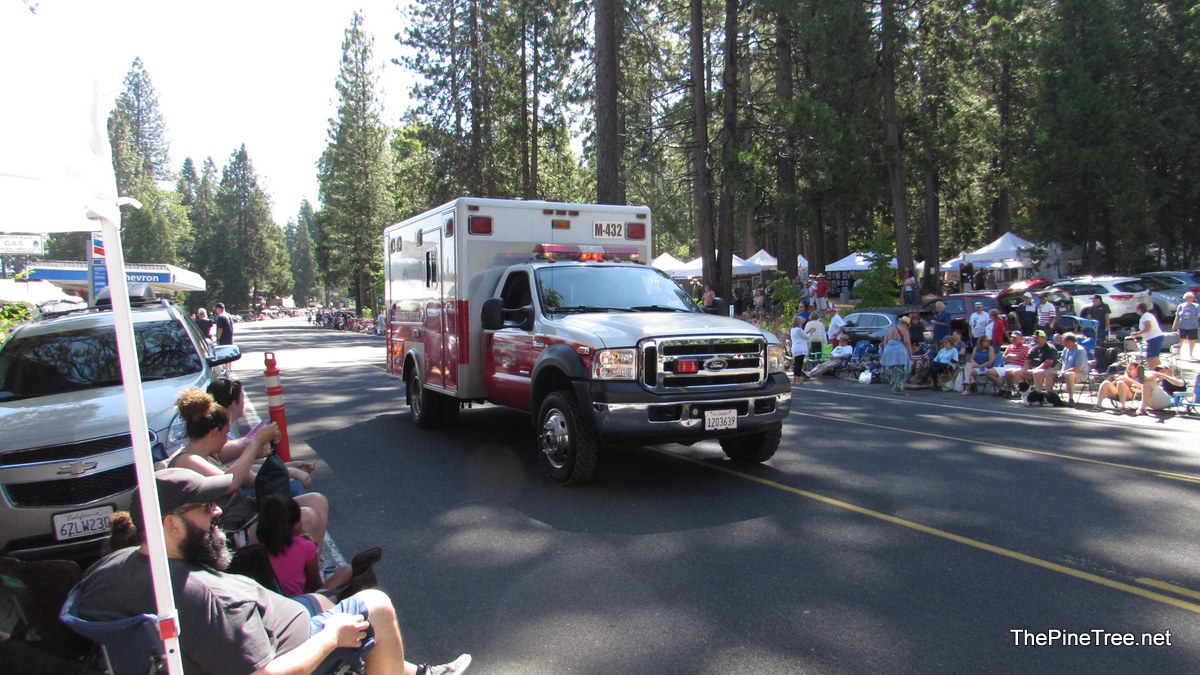 Race registration
Registration will be $10 for all Calaveras kids and $15 for all other participants. Littles riding in strollers will cost $5. Minors must be registered by a parent or guardian. Sorry but there will be no refunds if you cannot race. Runners and walkers have three opportunities to register: (1) online at ultrasignup.com through June 30, (2) in person from 4 - 6 pm July 1 at Big Trees Market, or (3) in person the morning of the race. All participants will be given shirts on a first come, first served basis.

Bib pick-up
Runners and walkers who have registered online can pick up their race bibs at Big Trees Market from 4 - 6 pm on Friday, July 1. Otherwise bibs can be picked up at the registration table at the start of the race on July 2.

Day of the event
Same-day registration will start at 8:00 am at the bottom of the Arnold Byway on July 2. There is no parking at the Byway as this is the staging area for parade floats. Participants are encouraged to park at Cedar Center. A bus will pick runners up at Cedar Center at 8:45 am and 9:15 am and deliver them to the race start. Runners who do not make it on the bus for the 9:15 am departure will need to find a way to the race start on their own. The road closes at 9:30 am and doesn't re-open until the parade is over, so please plan accordingly. Pre-race warm-ups will commence at 9:45 am, and the race will begin promptly at 9:50 am (pending the highway closure). T-shirts and snacks will be available in the parking lot of El Dorado Savings Bank. This is also where racers can meet up with their families.

Awards
Awards for the top three individuals (male and female) in each category will receive a medal upon finishing the race. Categories are Preschool - 1st grade, 2nd - 5th grade, 6th - 8th grade, 9th - 12th grade, adult, and senior (55+). Categories are based on where the participant will be in the fall of 2022.

After the race
After the race, stick around and enjoy the annual Arnold Independence Day parade from 10-11 along the same route as the Firecracker Mile.
---
07/02/2022
Starts at 09:30 AM
---
General