Calendar
Calaveras Community Foundation (CCF) Sponsors Vitalant Blood Drive on Tuesday, September 27, 2022
San Andreas, CA...The Calaveras Community Blood Drive on September 27 will be hosted by Vitalant (formerly Blood Source). The ongoing partnership between CCF and Vitalant makes these bi-monthly blood drives possible. CCF and Vitalant are dedicated to saving lives by making sure that live saving blood is available for Calaveras County patients when it is needed.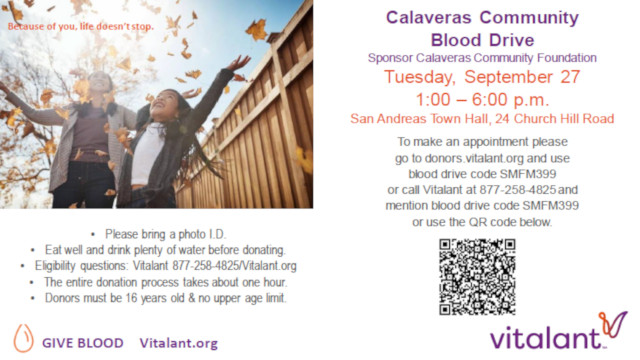 You can help by donating blood. Donating blood is easy. The entire process takes about an hour from start to finish; the actual blood donation takes about 5-7 minutes.

In a preparation for your blood donation, be sure to bring your photo ID, eat a healthy meal, and drink plenty of water. Making an appointment on-line is highly recommended: go to donors.vitalant.org and use blood drive code SMFM399. Or, call Vitalant at 877-258-4825. Donors will be required to wear a mask or face covering. Donors must be 16 years or older.

When: September 27, 2022, from 1:30-6:00pm
Where: San Andreas Town Hall – 24 Church Hill Rd., San Andreas
Why: Because of you, life doesn't stop!

For more information or questions, contact Terry Beaudoin, Calaveras Community Foundation Board Member and Blood Drive Coordinator, at 209-772-9145 (home) or 209-652-6618 (cell).
---
01:30 PM - 06:00 PM
09/27/2022