Coming Soon...
Wednesday, Sep 29
All Day
Make Sure Stevenot Winery & Tasting Room is on Your Visit Itinerary
06:00 PM
Overeaters Anonymous (OA)
Thursday, Sep 30
All Day
Make Sure Stevenot Winery & Tasting Room is on Your Visit Itinerary
04:00 PM
The 2021 Certified Farmers' Market San Andreas is Open Weekly Thursdays 4pm to 6pm!
Friday, Oct 1
All Day
Make Sure Stevenot Winery & Tasting Room is on Your Visit Itinerary
Saturday, Oct 2
All Day
Join the CWA's 28th Annual "Calaveras Grape Stomp" at Murphys Community Park! (2019 Photos & Vi
All Day
The 46th Annual Lumberjack Day is October 2nd, 2021!
All Day
Make Sure Stevenot Winery & Tasting Room is on Your Visit Itinerary
Sunday, Oct 3
All Day
Our Sunday Edition with Local Features, Local Specials & More Every Sunday All Day Long!
All Day
Make Sure Stevenot Winery & Tasting Room is on Your Visit Itinerary
09:00 AM
Murphys Certified Farmers' Market 2021
Wednesday, Oct 6
All Day
Make Sure Stevenot Winery & Tasting Room is on Your Visit Itinerary
06:00 PM
Overeaters Anonymous (OA)
Thursday, Oct 7
All Day
Make Sure Stevenot Winery & Tasting Room is on Your Visit Itinerary
04:00 PM
The 2021 Certified Farmers' Market San Andreas is Open Weekly Thursdays 4pm to 6pm!
Friday, Oct 8
All Day
TuCARE's Annual Natural Resources Summit is October 8th! "Making Our Communities Fire Safe"
All Day
Make Sure Stevenot Winery & Tasting Room is on Your Visit Itinerary
Saturday, Oct 9
All Day
Make Sure Stevenot Winery & Tasting Room is on Your Visit Itinerary
Sunday, Oct 10
All Day
Our Sunday Edition with Local Features, Local Specials & More Every Sunday All Day Long!
All Day
Make Sure Stevenot Winery & Tasting Room is on Your Visit Itinerary
09:00 AM
Murphys Certified Farmers' Market 2021
Health & Fitness
---
Announcements
Copperopolis Family Medical Center Now Open at 430 Sawmill Creek Road
Posted by: thepinetree on 09/27/2021 04:11 PM
Copperopolis, CA...Hometown health care is now state-of-the-art with completion of the Copperopolis Family Medical Center. The new facility is part of Mark Twain Medical Center's network of clinics and specialty centers in Calaveras County communities. The clinic offers residents of Copperopolis and neighboring communities the opportunity to establish local health care relationships with primary care physicians in an outstanding new facility. Schedule Appointments online now at MarkTwainMedicalCenter.org or call 209.754.2968. Services Include: Primary Care, Women's Health, Behavioral Health, Chiropractic Health, Point of Care Testing, Lab Draws & Virtual Visits.


Read More
President Biden While Receiving a COVID-⁠19 Booster Shot
Posted by: thepinetree on 09/27/2021 02:41 PM
Washington, DC...Hello, everybody. How are you doing? Did you ever think you'd be seeing your press coming to watch someone get a shot in the old days? Me either. (Laughs.) Anyway, like I did in my first and second COVID-19 vaccination shot, I'm about to get my booster shot and do it publicly. That's because the Food and Drug Administration — the FDA — the Centers for Disease Control and Prevention — the CDC — looked at all the data, completed their review, and determined that boosters for the Pfizer vaccine — and others will come later, maybe, I assume — but the Pfizer vaccine are safe and effective. They have all the data they need.


Read More | 14 Comments
Governor Newsom Signs Legislation Strengthening Access to Reproductive Health Care & Lifts up California Future of Abortion Council
Posted by: thepinetree on 09/22/2021 07:49 PM
Sacramento, CA...In the face of unprecedented attacks on women's health care and reproductive rights throughout the country, Governor Gavin Newsom today announced the Administration's participation in a new advisory group, the California Future of Abortion Council, to advance the state's leadership on reproductive freedom and signed legislation furthering the state's commitment to ensuring access to essential reproductive and sexual health care services. The legislation will protect the privacy of patients seeking sensitive health care services, including reproductive health care, and create new safeguards to protect patients and providers from harassment.


Read More | 40 Comments
97 New Covid Cases & Another Death in Amador County
Posted by: thepinetree on 09/21/2021 06:02 PM
Amador County, CA...Amador County Public Health reports 97 more individuals with COVID-19 since last Tuesday's update, of whom 82.5% were unvaccinated. The cases include 26 children under the age of 18 years, 39 age 18-49, 13 age 50-64, and 19 age 65 and above. Since January 1, 2021, confirmed cases of COVID-19 total 1,745. There are currently 124 active cases. Investigation has also confirmed 1 additional death due to COVID-19: a male in his 70s. The County website now includes an epi curve bar graph representing Amador county resident cases. The vaccines continue to be very effective at preventing serious illness and death. Of the eleven (8 Amador residents and 3 from other counties) patients hospitalized locally with COVID-19, only one was fully vaccinated. Statewide, there is more than a 10-fold increased risk of hospitalization and nearly a 15-fold increased risk of death among people who are unvaccinated.


Read More | 2 Comments
The Doctor Is In with Dr. Randy Smart Talking about Stomach Ulcers!
Posted by: thepinetree on 09/21/2021 06:30 PM
San Andreas, CA...The Doctor Is In with Dr. Randy Smart talking about Stomach Ulcers! Dr. Smart has some good health news in this episode. Modern medicine has Stomach Ulcers on the run!!


| 9 Comments
Amador County Horse Comes Down with West Nile Virus.
Posted by: thepinetree on 09/21/2021 07:07 PM
Amador County, CA – Amador County Public Health confirms the first 2021 case of West Nile virus (WNV) in an Amador County horse. Outbreaks of WNV occur each summer in the United States and are most commonly transmitted to humans and animals through a mosquito bite from a mosquito harboring the virus. Public Health officials remind the community to take preventative measures to avoid mosquitoborne disease.


Read More | 12 Comments
Calaveras Health Department Reports 4 Covid Deaths Today
Posted by: thepinetree on 09/20/2021 07:22 PM
San Andreas, CA...Good afternoon Calaveras County Residents, I am reporting out that we have 4 COVID deaths to report today from Calaveras County. They are: A male in his 30s, A male in his 60s, A male in his 70s, A female in her 80s. Each individual has family and friends to whom we send our deepest sympathies.


Read More | 45 Comments
Blood Analysis Screenings Only $45! Call Mark Twain Medical Center Now!
Posted by: thepinetree on 09/19/2021 04:55 PM
San Andreas, CA....Blood Analysis Screenings Only $45! Call Now! Although we cannot gather for our annual Fall Health Fair, we will be offering Blood Analysis Screenings for $45. Please call 209.897.0267 to schedule your appointment. Our goal is to provide this important screening to you safely and conveniently.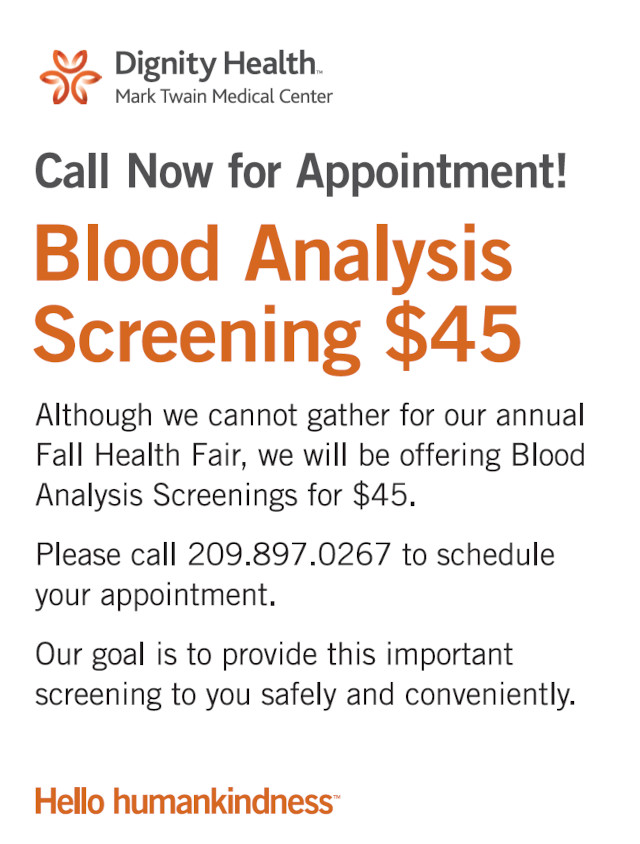 Read More
Briefing by White House COVID-⁠19 Response Team and Public Health Officials
Posted by: thepinetree on 09/18/2021 12:27 PM
Washington, DC...Good morning, and thanks for joining us. Before I turn to Drs. Murthy, Walensky, and Fauci, I want to provide an update on our vaccinations program. Today, more than 210 million Americans — nearly 75 percent of people age 12 and older — have gotten at least their first shot. And just yesterday, we reached 180 million fully vaccinated Americans. That's up from 2 million the day the President took office.


Read More | 66 Comments
Calaveras County Health Officer Upgrades Youth Sports and Extracurricular Activity Guidance to Mandatory Order
Posted by: thepinetree on 09/14/2021 12:20 PM
San Andreas, CA...On Friday, September 10, 2021, the Calaveras County Health Officer upgraded the guidance for youth extracurricular activities and youth sports released on August 23, 2021 to an order. The order comes at a time when COVID-19 cases have surged in the county, including the quarantine of a local school sports team stemming from a recent exposure to COVID-19. The order was done in collaboration with the Calaveras County Superintendent of Schools and other school partners. The order goes into effect starting Monday, September 13, and will remain in effect until it is rescinded. Adherence to the order applies to all extracurricular and organized youth activities that occur before or after school, on school campuses or in the community, public or private.


Read More | 16 Comments