Murphys
---
Calendar
07/09/2022
-
Spring Up In The Hills: Celebration Of Independence
Join us for a day and night of Celebrating Our Indepence at The Armory!
☆Saturday July 9th 10am-5pm☆
☆Spring Up In The Hills: Celebration Of Independence ☆
Come have a terrific time celebrating your independence in beautiful Copperopolis!!  Support your local small businesses buying direct from makers and enjoy a deliciousy unique bite to eat! There is sure to be something here for everyone!!
Reserve a campsite and stay the night!  Or come back for the comedy show inside of the armory at 7:30pm!
This family friendly Outdoor/Indoor event will have Live Music, Beer & Wine, Food, Vendors, Indoor Restrooms, Bounce Houses, Games, Jewelery, CBD, Plants, Soaps, Crystals, Clothing, Wood Work, Decor, Lotions, Art, Shoes, Candles, Crafts, Handmade Goods, Plus More!
▪︎FREE Event!
▪︎FREE Parking! [Safe & Ample]
▪︎Comedy Show @ 7:30pm!*
▪︎Overnight Camping Available!*
*More info. soon!
《If we have a large enough interest in people camping, we will book another band to play an exclusive set after the comedy show! It would be for people camping only!!》
Accepting Vendors!!
Contact us for more info.
Text/Call:
209-718-0369
Email:
EventsbyOCE@gmail.com
Online:
www.cbdbyoce.com/springup22
Instagram:
@springupinthehills2022
@cbd_by_oce
07/02/2022
-
The 2022 Ironstone Vineyards Independence Day Celebration!
Murphys, CA...Get ready for a day of live music, craft vendor booths, food, wine and beer, bounce houses and kids activities, a rock climbing wall and, of course, the BEST firework display for miles around.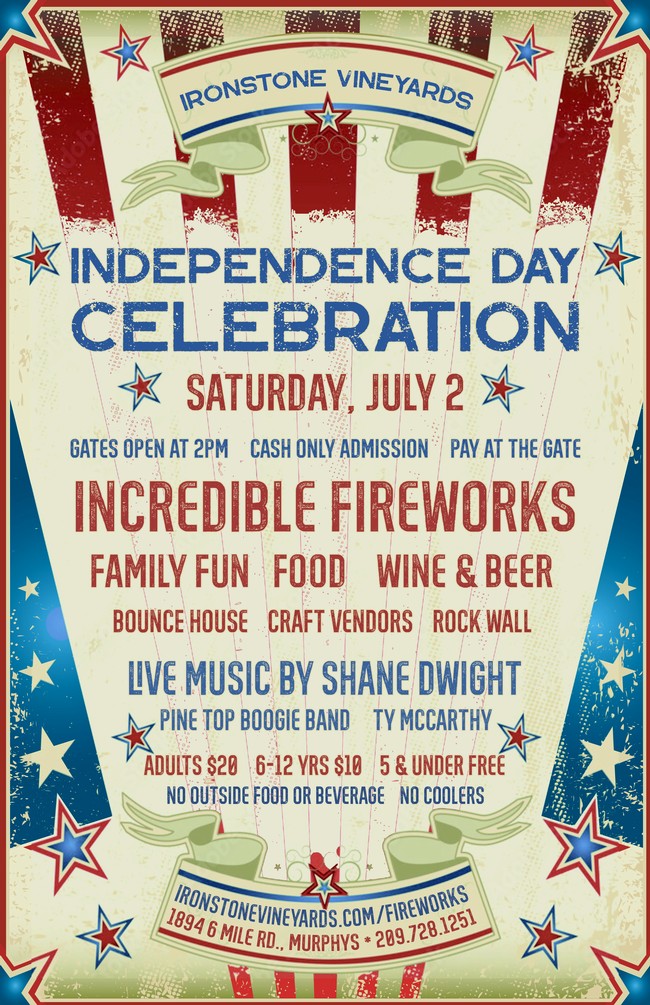 As many of you know, California's on-going drought conditions and thereby imminent fire danger is a subject that is not to be taken lightly. While, of course, the enjoyment of our guests remains paramount, it is only surpassed, in terms of importance, by the responsibility of providing a safe atmosphere for our patrons and surrounding community. The combination of the inherent fire danger that hosting a firework show carries and the aforementioned conditions makes navigating such an event very tricky. So tricky that, as many may have noticed, the majority, if not all, of our beloved neighboring shows have been forced to cancel.
We are thankful that, because of our unique venue layout, seasoned professional firework show planners and technicians, support and input from our local and state fire department, and an overall on-going dedication to maintaining the most safe possible experience, we are in a position to carry on with the firework show and provide guests with what we believe is the most fantastic firework show for miles around. However, in the name of safety, there will be some extra precautions taken this year. Primarily in terms of the height of the fireworks that we use for the show.
While in years past our highest-flying fireworks shot up between 500 and 600 ft., this year we will keep our fireworks to around (or under) 200 ft. It should be noted that, the number of fireworks we will use will not change and the overall brilliance of the fireworks will not be sacrificed. We simply need to keep the show a bit lower in the name of safety.
Also, because of the heightened awareness and attention to fire safety this year, CHP will be especially sensitive to those who try to park on 6 Mile Rd. outside and around our venue. Those who try to do so, can almost guarantee to be ticketed and/or towed.
Of course, should we experience a further decrease in the air humidity, higher temperatures, or increased windspeeds, this is subject to change. We will be sure to notify the public every step of the way. Again, we are so thankful for the opportunity to be able to host such an incredible event that we, as well as our
community, have all been looking forward to so very much.
See you all on July 2nd!
07/25/2022
-
Vacation Bible School Compassion Camp
Compassion Camp is a program where kids and families explore what it means to have compassion for others,
ourselves, and the world.
As we look around the world, our deep need for compassion becomes more evident with each passing day,
perhaps now more than ever. Compassion Camp's goal is to cultivate compassion for each other, ourselves,
and the world. We will examine different places in our lives where we can cultivate compassion. Using each
of the Compassion Camp components, we'll explore themes of compassion as they relate to each session's
scripture.
06/18/2022
-
Live Music at Jazz Cellars all Summer Long
Murphys, CA...Join us starting Memorial Day weekend through the end of October for live music at the Jazz Cellars Tasting Room in the courtyard on Saturdays from 3-6pm. Check our website for performances and any updates!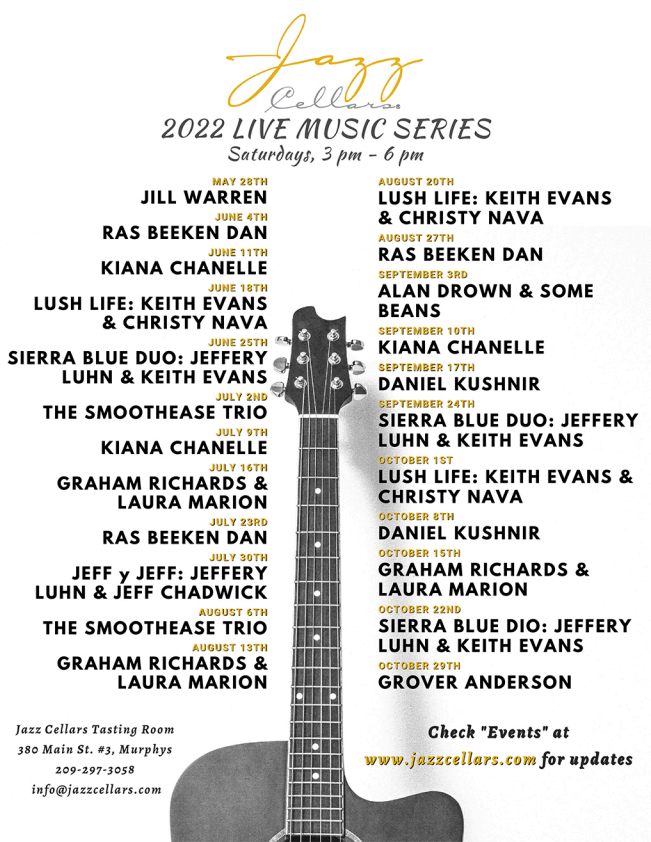 Questions? Send our Tasting Room Manager an email at
jody@jazzcellars.com
TODAY AT 3 PM – 6 PM
Live Music at Jazz Cellars
06/18/2022
-
Music on the Patio with Brad Hoshaw at Val du Vino Winery
Murphys, CA...Join us Saturday, June 18th for Music on the patio by award-winning singer songwriter Brad Hoshaw. His soothing tenor voice and earnest storytelling combines a musical experience reminiscent of Townes Van Zandt and Jeff Buckley.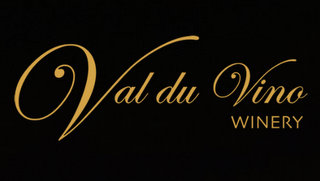 Open to everyone! Reserve a seat for $10, and we give it back as a wine credit the night of the event.
A reservation is not required but it will be first come - first served for available seats, or call the winery at (209) 728-9911 and we will set you up.
TODAY AT 5:30 PM – 7:30 PM
06/09/2022
-
Summer Fun at Feeney Park
Murphys, CA...Summer fun at Feeney! Taco truck, shaved ice, and water balloons this Thursday the 9th! Join us at 4:30 to beat the heat with Kona Ice and Stacy's Taco Spot! Free event, food for purchase,
06/10/2022
-
EXIT, Pursued by A Bear at Murphys Creek Theatre
Murphys, CA...Nan has decided to teach her abusive husband Kyle a lesson. With the help of her friend Simon (acting as her emotional–and actual–cheerleader) and a stripper named Sweetheart, she tapes Kyle to a chair and forces him to watch as they reenacts scenes from their painful past. In the piece de resistance, they plan to cover the room in meat and honey so Kyle will be mauled by a bear. Through this night of emotional trials and ridiculous theatrics, Nan and Kyle are both freed from their past in this smart, dark revenge comedy.
General Admission: $32.00
Student Admission: $26.00
Senior Admission: $26.00
Child Admission: $20.00
Visit the website for tickets : www.murphyscreektheatre.org
TIME
(Friday) 7:00 pm
LOCATION
Murphys Creek Theatre
580 South Algiers Street, Murphys, CA 95247
ORGANIZER
Murphys Creek Theatre
209-728-8422
580 S. Algiers Street Murphys, CA 95222
06/09/2022
-
Live Music at Murphy's Irish Pub
Murphys, CA...Come out to the Murphys Irish Pub for live music every Thursday 6:30-9:30, Friday 6-9, Saturday 6-9 and Sunday 3-6pm.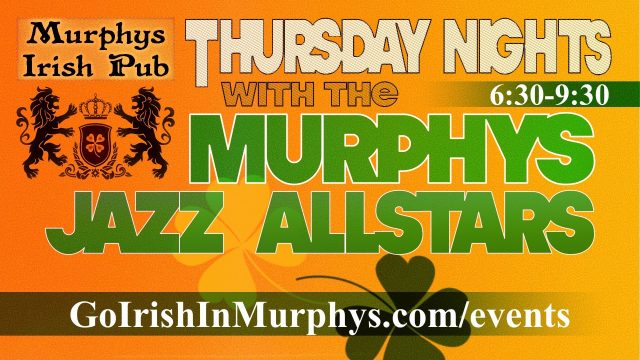 Go to our Facebook Events page for information about the music each day – https://www.facebook.com/goirishinmurphys/events/
You can also visit the Events page on our website at www.goirishinmurphys.com/events  
06/09/2022
-
FM on The Green Concert Series
Murphys, CA...Live Music at Forest Meadows Golf Course on the 9th Green. Free Concert, June 11th at 6pm.
Featuring The Joint Chiefs (R&B/Blues)
The Joint Chiefs are one of the most versatile and exciting dance bands currently performing on the Northern California music scene. Since their inception in 1990, The Joint Chiefs have built a loyal following based on their live performances as well as their wide range of styles and influences.
Food will be available for sale and bar will be open for service. No outside food or beverage.
Bring a chair.
06/11/2022
-
Ironstone Wine & Art Festival
Murphys, CA...Ironstone Wine & Art Festival held June 11 & 12 from 10am to 5pm each day is the perfect weekend addition honoring Ironstone Vineyards' motto, "Come for the wine, stay for the day." Covering 12 lush acres, Ironstone Vineyards offers wine tasting, dining, fabulous gardens, and is the beautiful backdrop for this exciting, inaugural Ironstone Wine & Art Festival.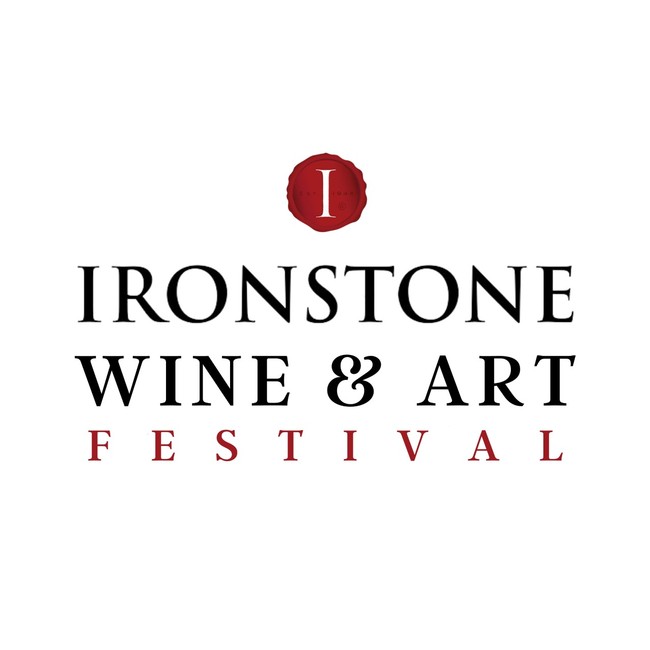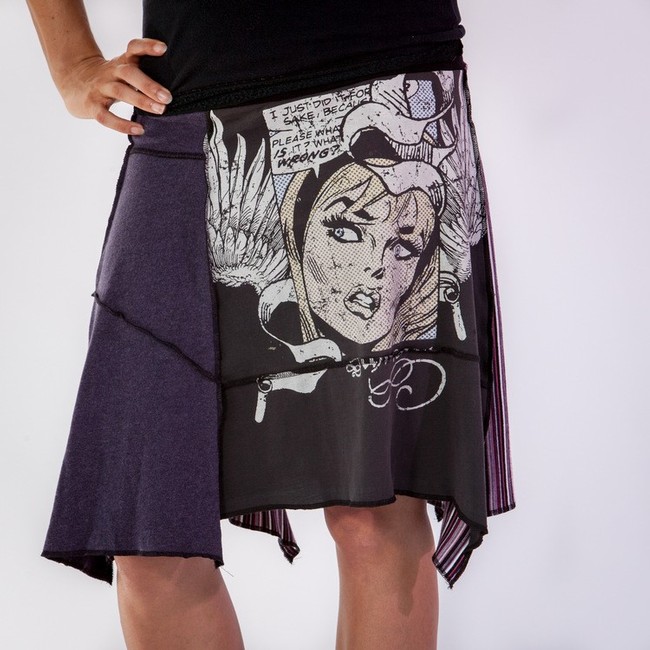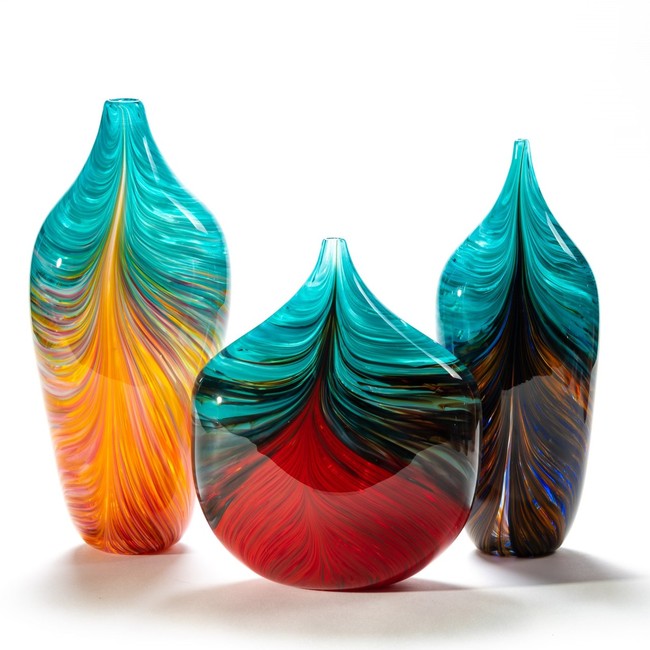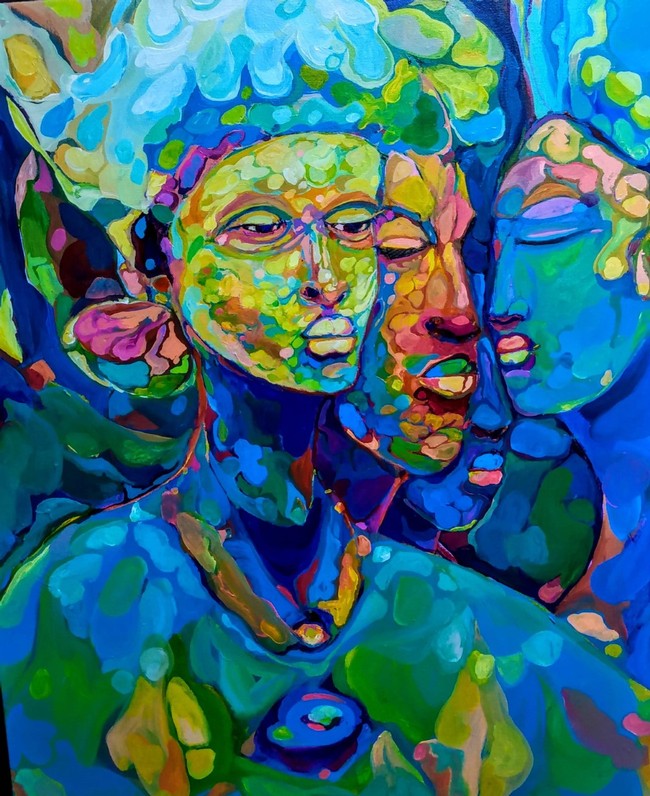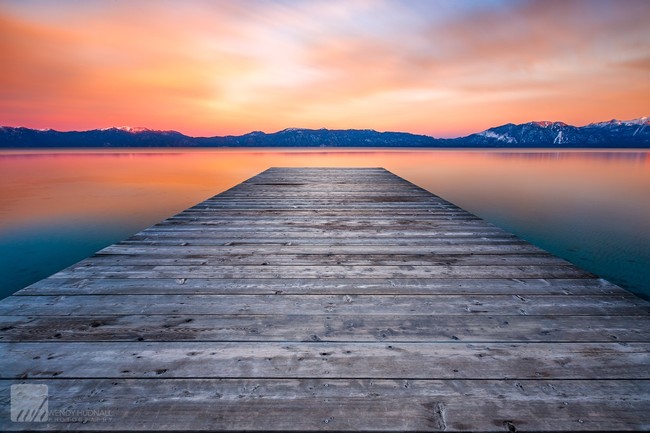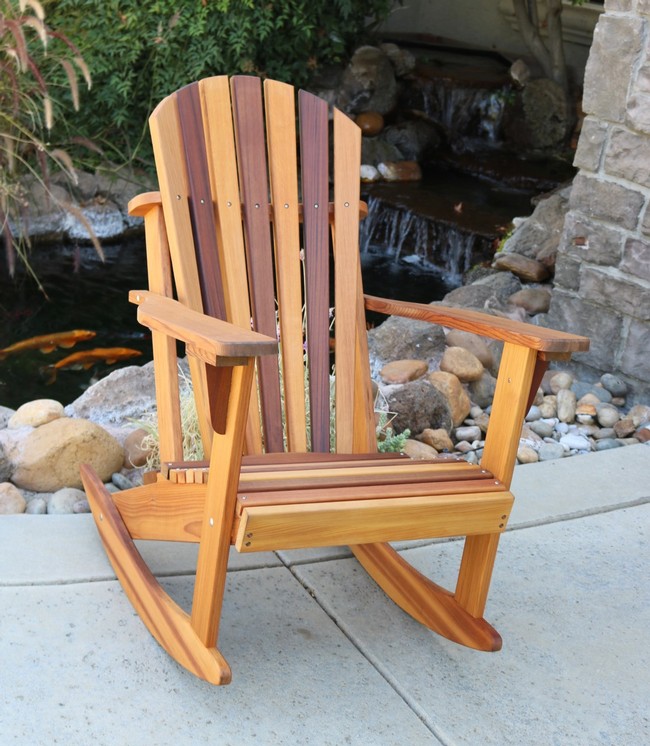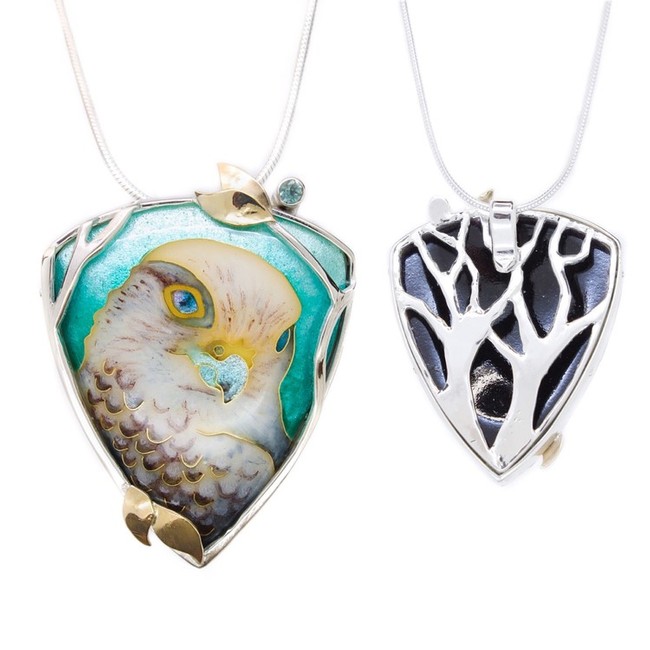 Ironstone's Amphitheatre is where you'll find 50 artists showcasing their original, handcrafted artwork in a variety of fine arts and fine crafts media including paintings, woodwork, jewelry, finely crafted wearables and more. The artists will be on-site to engage with patrons about their purchases. Live ambience music and delicious food and wine provide a shopping respite and opportunity to sit back and appreciate the art and the Vineyards' peaceful surroundings. In addition to the art's visual delights, there will be fun activities for the entire family including face painting, wine tasting (but, of course!) and much more.
Visit Ironstone Vineyards and the Ironstone Wine & Art Festival on June 11 & 12 — an open air art gallery with so much for all to enjoy! Free admission, easy parking.
Ironstone Wine & Art Festival
Date: Sat, Jun 11, 2022 - Sun, Jun 12, 2022
Time 10:00 AM to 5:00 PM
Venue: Ironstone Vineyards
Contact: Dana Hale-Mournier
Email:
pfa@pacificfinearts.com